Enterprise Solutions for AMD EPYC™ 9004 Series Processors
Time and productivity matter. For the 4th Gen AMD EPYC platform, GIGABYTE has solutions ready to ensure the best performance from new, leading technology.
Powering the Next Generation of Server Architecture and Energy Efficiency
The path to AMD's 5nm 'Zen 4' architecture was paved with many successful generations of EPYC innovations and chiplet designs, and AMD EPYC 9004 Series processors continue this progression. Adding a host of new features to target a wide range of workloads, the new family of EPYC processors will deliver even better CPU performance and performance per watt, and do so on a platform with 2x the throughput of PCIe 4.0 lanes that also has support for 50% more memory channels. For this new platform, GIGABYTE has products ready to get the most out of EPYC CPU-based systems that support fast PCIe Gen5 accelerators and Gen5 NVMe drives, in addition to support for high performant DDR5 memory.
4th Gen AMD EPYC™ Processors for SP5 Socket
5nmarchitecture
Compute density increased with more transistors packed in less space
128CPU cores
Dedicated cores and targeted workloads for Zen 4c & Zen 4 cores
Large L3

cache

Select CPUs have 3x or more L3 cache for technical computing
SP5compatibility
All 9004 series processors are supported on one platform
12channels
Memory capacity can achieve 6TB per socket
DDR5memory
Increased memory throughput and higher DDR5 capacity per DIMM
PCIe 5.0

lanes

Increased IO throughput achieving 128GB/s bandwidth in PCIe x16 lanes
CXL 1.1+

support

Disaggregated compute architecture possible via Compute Express Link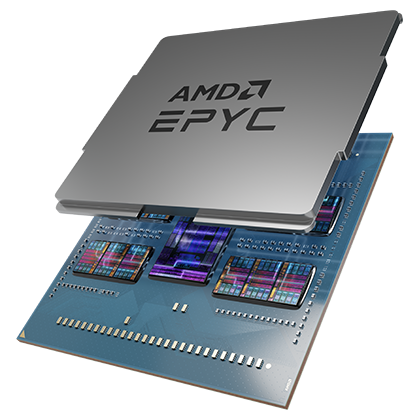 Select GIGABYTE for the AMD EPYC 9004 platform
High Performance

Servers and motherboards by GIGABYTE are tested to ensure peak performance for demanding CPU workloads. All the latest technology is supported.

Compute Density

One single socket solution can outperform many dual CPU servers. Dual socket models are capable of up to 192 cores in a 1U chassis.

Fast & Stable Connectivity

Keeping pace with the challenges for next gen technology, well designed GIGABYTE boards provide users the signal integrity for PCIe 5.0

Modularity

Our building block design allows new models to quickly come to market. And users can now have BMC on a OCP module customized by GIGABYTE.

Collaboration

AMD and GIGABYTE have maintained a healthy relationship that values shared knowledge in order to get the latest technology into data centers.

Optimal Price

Our broad portfolio of products and models allows customers to only select the features they require while doing so at a lower TCO.
All New GIGABYTE Server Line-Up for 4th Gen AMD EPYC Processors
GIGABYTE Technology, an industry leader in high-performance servers and workstations, announced its portfolio of products ready to support the new AMD EPYC™ 9004 Series Processors in the first wave of GIGABYTE solutions that will target a wide range of demanding workloads that include GPU-centric, high-density, edge, and general computing.
New EPYC Server Motherboards Ready for AMD EPYC 9004 Processors: M-series
Server boards designed for customers' integration come with in-band and out-of-band management.

New All Purpose Servers Ready for AMD EPYC 9004 Processors: R-series
Affordable and expandable rackmount servers that are energy efficient and have optimal storage configurations.

New CPU Dense Servers Ready for AMD EPYC 9004 Processors: H-series
Compact and scalable systems provide higher density computing power in a smaller footprint for cloud and other scale-out computing applications.

New GPU Dense HPC Servers Ready for AMD EPYC 9004 Processors: G-series
Versatile and scalable high-performance parallel computing servers with leading GPU compute density and performance.
New Edge Computing Servers Ready for AMD EPYC 9004 Processors: E-series
Edge computing is a distributed computing paradigm which brings computation and data storage closer to the location where it is needed, to improve response times and save bandwidth.

GIGABYTE Strategic Partners for 4th Gen AMD EPYC Processors
With the great support from Broadcom, Samsung and Solidigm, GIGABYTE achieved more modularized server architecture and higher performance storage solutions for AMD EPYC "Genoa" servers.

GIGABYTE G293-Z43 with AMD Alveo V70 AI Accelerator Card
In this short video, we will discuss about three main topics, 1)Why are we promoting this model? 2)Why is AI so important to our daily life? How could this V70 Card have a direct impact on our G293? 3)Some real cases of utilising this V70 card in real life.
Go On An EPYC Journey with AMD and GIGABYTE
At Computex 2023 we showed off our deep enterprise portfolio and showed support for next gen AMD EPYC processors. Join Scott Shillington, AMD Corporate VP of Global Commercial Sales, as he shares about the extensive history and mutual support that GIGABYTE and AMD have had over the years.
[Q] Is the new 4th Gen AMD EPYC processor compatible with a server for a prior gen CPU such as the AMD EPYC 7003 series?
[A] Sockets are compatible with specific processors, and that is because all advancements such as processor node require architecture change from both socket and processor. Since the new servers and motherboards have SP5 socket, they are not compatible with 7003 series that uses SP3 socket.
[Q] Will this new SP5 socket be compatible with future AMD EPYC processors?
[A] Yes, future 9004 CPUs that are planned by AMD will be drop in compatible with the SP5 socket.
[Q] Will GIGABYTE have more products for this new generation of EPYC 9004 processors?
[A] Yes, the first wave of 20+ servers and motherboards reaches nearly all server segments, and future products released for the 9004 series will be comparable if not more than the number of servers created for 3rd Gen AMD EPYC.