IoT Retail Solutions for POS / KIOSK
Compact, Flexible, High-Performance and Efficiency
Satisfy the Diverse Needs of Retail Market
GIGABYTE presents IoT embedded solutions for various retail applications, such as POS, self-service KIOSK and vending machine. They bring not only high computing performance for CRM management, but also the compact and fan-less design to be placed or fit in any space-limit environment. The expansion slots make the system design more flexible and abundant IO ports satisfy the needs to communication with multiple devices. Multi-display outputs up to 4K resolution via HDMI 2.0 give retailers another option to bring virtual experience to customers.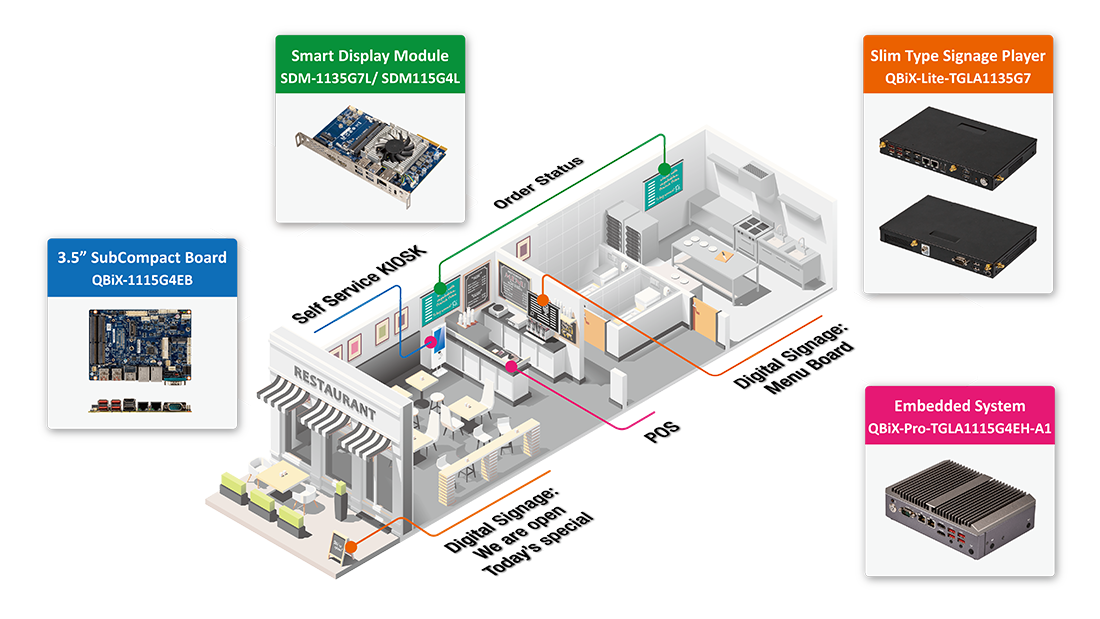 What GIGABYTE IoT Retail Solutions Can Bring?
Applications Versatility

They can be used for any application, which can be anywhere and powering the systems behind everyday life.

Excellent Performance

With the latest Intel® 11th Gen core i processors, these solutions deliver intelligent performance, stunning entertainment, and the best connectivity.

Fan-less Design

Instead of traditional CPU fan, heatsink design protects the system from dusts and dirt, in order to extend product-life and for easy maintenance.

Longevity Support

The product design comply with industrial standard of anti-vibration and anti-shock, and the longevity support at least 5 years.

Space Saving

The compact size of single board and slim system design can be fit in any space-limited environment.

Flexibility and Expandability

Abundant IO ports and expansion slots make the system design more flexible for various retail needs.
Related Products
QBiP-1115G4EB

3.5" SubCompact Board with Intel® Core™ i3-1115G4E Processor

QBiX-Pro-TGLB1115G4EH-A1

Industrial System with Intel® Core™ i3-1115G4E Processor

QBiX-Lite-TGLA1135G7-A1

Digital Signage System with Intel® Core™ i5-1135G7 Processor

SDM-1115G4L

Smart Display Module with Intel® i3-1115G4 Processor

SDM-1135G7L

Smart Display Module with Intel® i5-1135G7 Processor