GA-K8NSNXP-939: The Ultimate Solution for Socket 939 Athlon64 / 64FX Processor
2004/06/03
Speed, Power and Stability
Gigabyte Technology unveils its hefty high-performance motherboard, theGA-K8NSNXP-939, in conjunction with the launch of AMD socket 939 Athlon64 and Athlon64 FX processors. Supporting the new Athlon64 and Athlon64 FX processor with the acclaimed Dual Channel DDR400 memory architecture and 1 GHz HyperTransport interface, the GA-K8NSNXP-939satiates the user's need for speed and more speed.
In addition to the outstanding architecture and rich feature of advanced nForce3 Ultra platform processor, the GA-K8NSNXP-939 is benefited with industry's cutting-edge technology and Gigabyte's latest "6-Dual Deluxe" to provide full power for superior performance and stability. High speed, solid power and maximum stability mean that the GA-K8NSNXP-939is definitely the way to go for gamers, geeks and consumers alike!

The Brand New Socket 939 AthlonTM64 & AthlonTM64 FX Processor
The AMD Socket 939 AthlonTM64 and AthlonTM64 FX processors are the latest evolution of the AMD Athlon 64 family. This latest Socket 939 processor has built its strength on the well-known AMD64 framework which consisted of 64-bit computing platform, HyperTransport Technology, and integrated memory controller. With improved 1 GHz HyperTransport interface and dual channel DDR400, the revolutionary processor design nsures superior performance on mission critical business applications. "The new generation socket 939 Athlon64/64FX push system performance to utmost level thus greatly enhancing office productivity and providing astonishing, true-to-life digital entertainment experience" said Mr. David Chiang, General Manager of Channel Business of Gigabyte. Collaborate with Athlon64/ 64FX, GA-K8NSNXP-939 delivers unprecedented performance to the desktop platform.

"6 Dual Deluxe"- The Extreme Edition
The "6 Dual Technology", including Dual CPU bandwidth, Dual Channel DDR400, Dual Power System (DPS), Dual Cooling, DualBIOS™, and Dual LAN, has been heavily promoted and gained a great deal of media coverage and consumer approval due to its ability to improve performance and stability of the motherboard. The "6 Dual Deluxe" enriches the "6 Dual Technology" by adding "RAID Deluxe" feature, an innovative RAID function which spans from Serial ATA and Parallel ATA133. Empowered by the nForce3 Ultra, the "RAIDDeluxe" supports up to 6 hard drives (2 serial ATA and 4 ATA133 devices) for RAID 0, 1, 0+1 function. The "RAID Deluxe" delivers truly flexibility and high performance to the platform at the same time.

Diverse Features for Enthusiasts
In addition to "6 Dual Deluxe", this platform had equipped with diverse features for full range of application.

IEEE1394b FireWire interface
For those who enjoy the use of audio/video electronic devices, the GA-K8NSNXP-939 comes complete with the IEEE1394b, otherwise known as "FireWire". The brand new IEEE1394b, powered by remarkable solution of Texas Instruments (TI), enables much higher performance with a data transfer rate of 800 Mbps. This built-in component allows for quick and easy transfer of music, picture and video files from your electronic device to your computer.

8-Channel Audio with Universal Audio Jack (UAJ) design
For music lovers, the GA-K8NSNXP-939 comes with 8-channel audio for stereo surround sound, as well as the Universal Audio Jack (UAJ) for hassle-free audio input installation. Compliant with AC'97, the UAJ function can auto detect the device type and connection status and auto switch signal to the right jack, users won't need to re-plug out if they plug in the wrong audio jack. The UAJ design provides smart audio experience and truly user-friendly interface to the desktop platform environment.
GA-K8NSNXP-939 Main Specification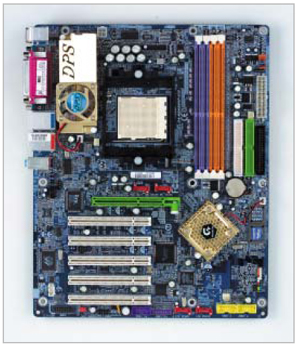 Supports AMD Athlon64 FX/ 64 FX Processor(Socket 939)
NVIDIA nForce3 Ultra Platform Processor
AGP 8x/4x, 5 PCI slot
Dual channel DDR400/333 with 4 DIMMs, support up to 4GB registered memory
Dual Power System (DPS-Gold) on Board
Dual LAN (Gigabit Ethernet + 10/100 Connection)
4 * Serial ATA (Silicon Image 3512 + nForce3 Ultra)
2 * Parallel ATA
3 IEEE1394b ports (T.I. solution)
8 USB 2.0/1.1 ports
8-channel AC97 audio with Universal Audio Jack
2 Ultra ATA133 Connectors
DualBIOS™
Xpress™ Installation, Xpress™ Recovery, Smart FAN, EasyTuneTM4