News
An Evolution for the Data Center with GIGABYTE & AMD EPYC
GIGABYTE @ COMPUTEX 2018 DAY 4 SPECIAL FEATURE
2018/06/08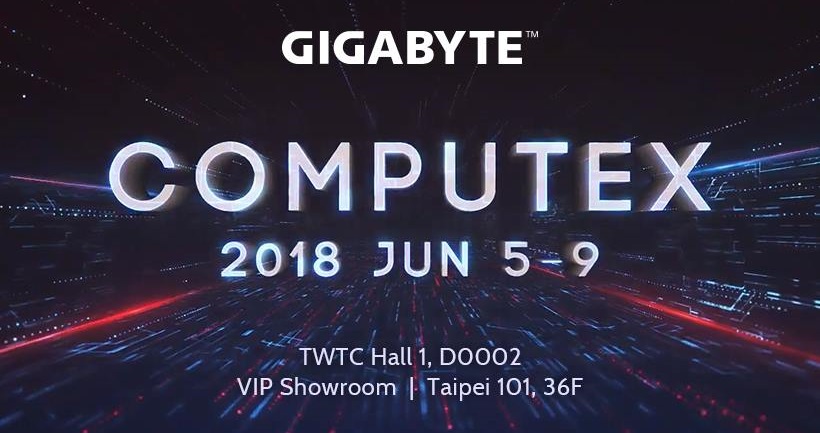 COMPUTEX Taipei, 8th June 2018 - GIGABYTE offers our customers a broad range of different CPU options for their data centers, including Intel's Xeon, AMD's EPYC and Cavium's ARM-based ThunderX2 systems. During COMPUTEX 2018, GIGABYTE is proud to be showcasing our AMD EPYC-based R-Series General Purpose Rack Servers as a featured product, which coincides with an aggressive new marketing push by AMD for its server CPU product line, entitled "This is EPYC".
AMD's EPYC 7000 Series is based on their "Zen" microarchitecture, which uses a 14nm process. The platform includes one- and two-socket systems. Each server chip has up to 32 cores, 64 threads, and supports 8 memory channels with up to 2TB of memory, and 128 PCIe 3.0 lanes. In multi-processor configurations, two EPYC CPUs communicate via AMD's Infinity Fabric, of which 64 lanes from each are used for CPU-to-CPU communication. AMD's EPYC is a SoC, with CPU, memory, I/O, Server Controller Hub and security in one package, without the need for a chipset.
EPYC has the advantage of core counts and memory over its competitor per CPU. AMD promotes the EPYC's I/O advantage as enabling greater driver and GPU density, as well as having the I/O capability and performance of a dual socket CPU server in a single socket, to enable lower total cost of ownership. Pricing has also been very competitive. This has enabled EPYC to gain new customer share for many large cloud service providers and hyper scale customers where both CAPEX and OPEX are very important considerations.
An interview with Forrest Norrod, VP and GM of Enterprise at AMD: https://www.youtube.com/watch?v=ciV0nt6x2gY
GIGABYTE currently offers 7 different server systems for AMD EPYC, which are part of our R-Series General Purpose Rack Server product series for Enterprise IT: the single socket 1U R151-Z30 and the 2U R271-Z31, and the dual socket 1U R181-Z90, R181-Z91, R181-Z92, and the 2U R281-Z91 and R281-Z92. Also available for system builders is our popular MZ31-AR0 server motherboard.
In addition, we will shortly be releasing many more innovative AMD EPYC products in the second half of 2018: for our H-Series Density Optimized product line the 2U 4 Node H261-Z60, for our G-Series High Performance Computing product line the 2U G291-Z20 and G221-Z30, for our S-Series Storage Server line the 4U S451-Z30, and for our R-Series Rack Server line the 2U R271-Z00. Subscribe to our newsletter to stay tuned for the official announcements and details of these products! GIGABYTE is proud to be able to provide the widest coverage of AMD EPYC platforms in the market.
Why should GIGABYTE be your first choice for your AMD EPYC server? GIGABYTE's systems have been perfectly optimized for EPYC with our industry leading design and engineering expertise. We are now proud to announce that both our single and dual socket AMD EPYC server systems have achieved some of the top benchmark scores for EPYC CPU performance on SPEC's CPU 2017 benchmark. The results can be seen below:
For more information on GIGABYTE's AMD EPYC server products, please visit GIGABYTE's booth during COMPUTEX 2018, or visit: http://b2b.gigabyte.com
Date & Time:
Tuesday 5th June to Friday 8th June 9.30am ~ 6.00pm, Saturday 9th June 9.30am ~ 4.00pm
Location:
Taipei World Trade Center Hall 1, Booth D0002