Immersion Cooling
Immersion cooling is a type of
liquid cooling
. By immersing the server directly into a bath of non-conductive liquid, thermal energy generated by the server's components is directly transmitted into the surrounding fluid without any additional active cooling systems or parts required, such as heat sinks, heat pipes or fans. The hot fluid then evaporates and re-condenses, and this natural re-circulation method is used to dissipate heat. In theory, this cooling method can greatly improve energy efficiency.
There are two types of immersion cooling, which work in slightly different ways.
●Single-Phase Immersion Cooling
Server or IT component is immersed in a thermally conductive dielectric coolant. The coolant will not change its state either boil or freeze, and always remain liquid. The coolant in the tank is pumped by cooling distribution unit (CDU) to the heat exchanger outside the tank, where the heat is transferred to secondary cooling circuit mostly the building cold water.
●Two-Phase Immersion Cooling
Servers or other IT components are submerged in a thermally conductive dielectric liquid or coolant. Heat is removed from the system by circulating the liquid into direct contact with hot components, whereby the liquid undergoes a low-temperature evaporation process to cool the hot components and transfer the heat out of the liquid. The gas is cooled again by a heat exchanging method such as a condenser coil to allow return flow into the larger liquid volume. (as illustrated below)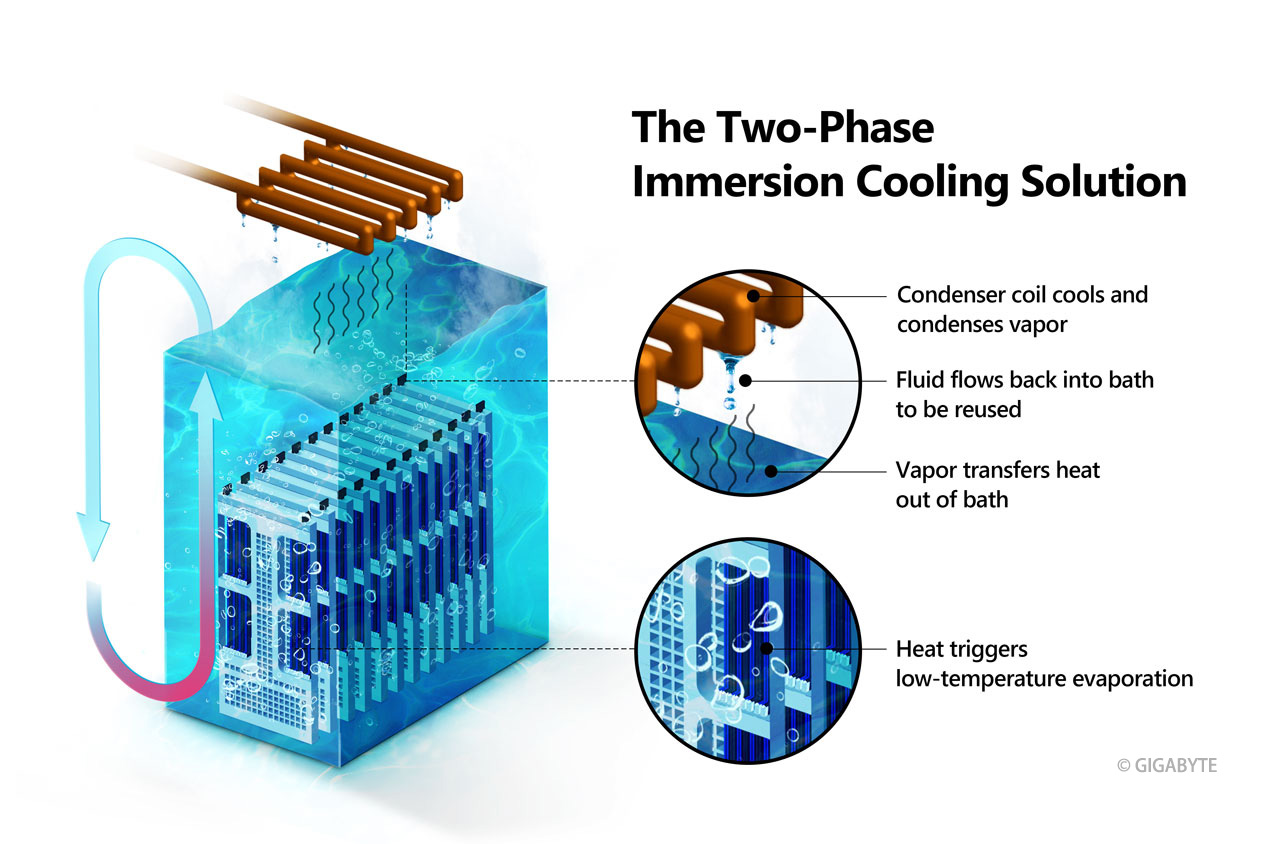 Immersion cooling technology places hardware directly into a bath of special non-conductive engineering fluid. Since airflow space required by traditional air cooling systems does not need to be considered, the design of the server can be extremely tight and allow for the best hardware density. Cooling fans are also no longer needed, greatly reducing noise within the data center and increasing PUE ratio. In addition, since moving mechanical parts such as cooling fans are removed, the maintenance requirement of the server is also reduced.
GIGABYTE has partnered with LiquidStack and 3M to provide a
two-phase liquid immersion cooling solution
, enabling customers to significantly reduce data center energy consumption, improve
power usage efficiency (PUE)
and reduce operating costs and environmental impact.
The field of
HPC
, in which GIGABYTE has extensive experience, is most suitable to adopt immersion cooling due to high temperatures generated by the server components as well as high maintenance costs. GIGABYTE makes it easy to modify our standard server products to be fully compatible with an immersion cooling system. GIGABYTE has also designed an immersion cooling POC (proof of concept) unit for testing and verification. This device is fully compatible with our 2U servers. A unit can also be modified as required to accommodate our other form factor (1U or 4U) models.
Learn more:
《
Immersion cooling has become the top choice for ESG-centric industry forerunner
》