Single-Phase Immersion Cooling with Submer
GIGABYTE has joined forces with Submer to offer a Single-Phase Immersion Cooling solution, allowing customers to drastically reduce their data center energy consumption and improve PUE, radically reducing operating costs and environmental impact.
A Well Proven Technology
Immersion cooling is a well proven technology in many industries today, especially in high-power transformers and EV battery packs. It is the most effective method for heat dissipation and electrical protection of thermally dense components. Computer hardware has been immersion cooled since the 1960's with some supercomputers that have been completely submerged in a dielectric fluid to dissipate heat. The main reason why this method has not become mainstream may be that we did not need to do it at the time.
Low-density IC dies can be cooled by air, but each new generation of chips on the market gradually meets Moore's Law. We are in a very different situation now due to some major trends that are aligning. The result of these trends poses a unique challenge for the data center industry and our connected world. Therefore, GIGABYTE and Submer teams intend to meet the challenge together.
Learn More:
《Implement Immersion Cooling in Your IT Deployment Strategy》
《Helping Companies Deploy Digitalization and Achieve Net-Zero Goals》
《Solve your thermal dilemma with GIGABYTE advanced cooling》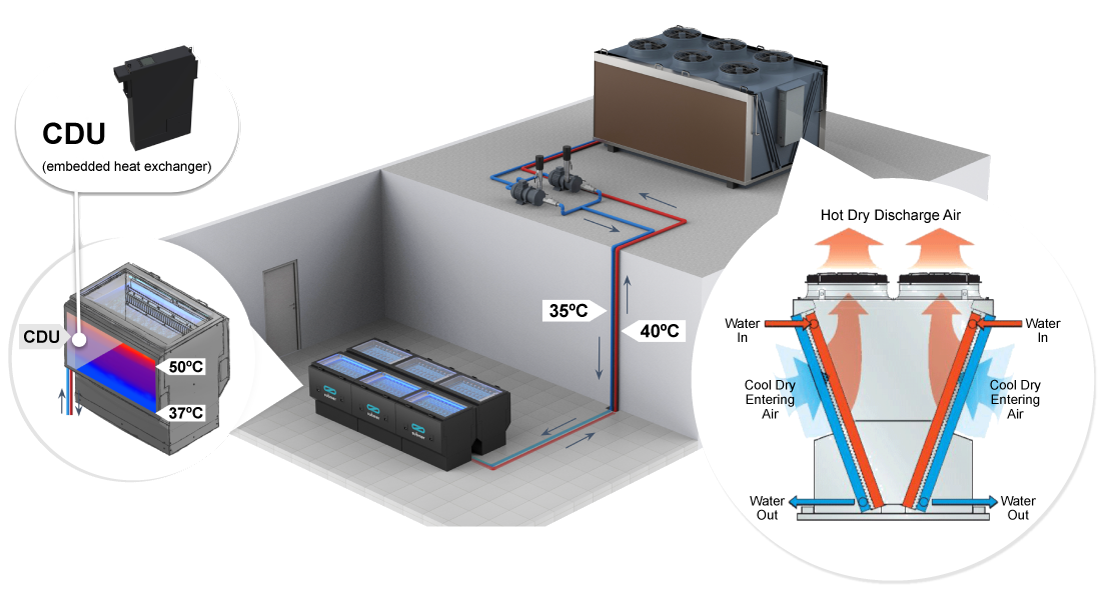 Advantages of Single-Phase Immersion Cooling
Higher Efficiency and Energy Savings

Up to 95% reduction in cooling OPEX in the data centers compares to air cooling - including server power consumption and air conditioning costs.

Higher Computing Density

No need for heat sinks and cooling fans means computing parts can be placed closer, which can increase computing power by 10 times in the same space.

Improved Reliability

Components are not subject to temperature variations, reducing failure potential & no cooling fans required, eliminating degradation from vibration.

Lower Maintenance Requirement

Passive cooling system means no unnecessary parts to build or service, useful especially for remote locations such as edge computing stations.

Deployment Flexibility

Can be deployed without air conditioning and low maintenance requirements. Can be expanded or contracted in limited space through small tank design.
Solutions for All
We understand that it is difficult to decide which solution is best for the customer and many factors need to be considered. Therefore, we have completed the hard work for you.
GIGABYTE works with Submer to create what we believe is the ultimate solution for the cloud, edge, HPC & AI industries. And to find the best solution customers are given three options, one of which will surely meet their needs. Customers can choose from a fully customized solution built to their exact specifications, or a basic solution that combines GIGABYTE and Submer's proprietary technology with different customizable elements, which give them the confidence that the hassle free solution they've chosen will be a perfect fit to the workload.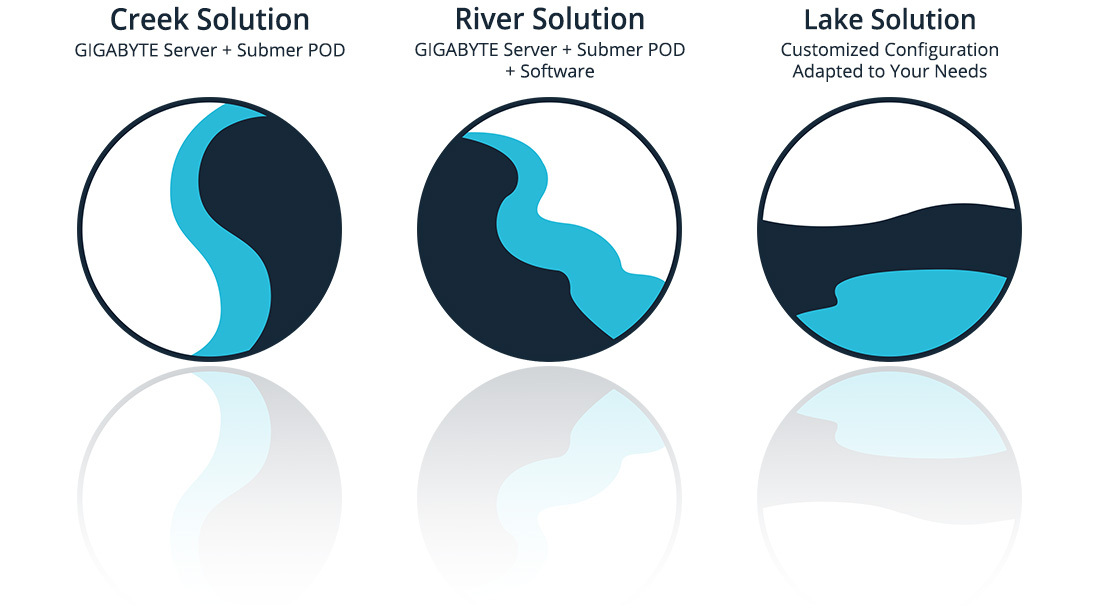 Power the Future with Immersion Cooling
Our solutions are designed to minimize the carbon footprint and achieve industry-leading operational and energy efficiency through immersion cooling. These solutions are powered by Submer's industry-leading immersion technology, which empowers users to have a high-density computing environment while reducing the environmental impact and improving sustainability.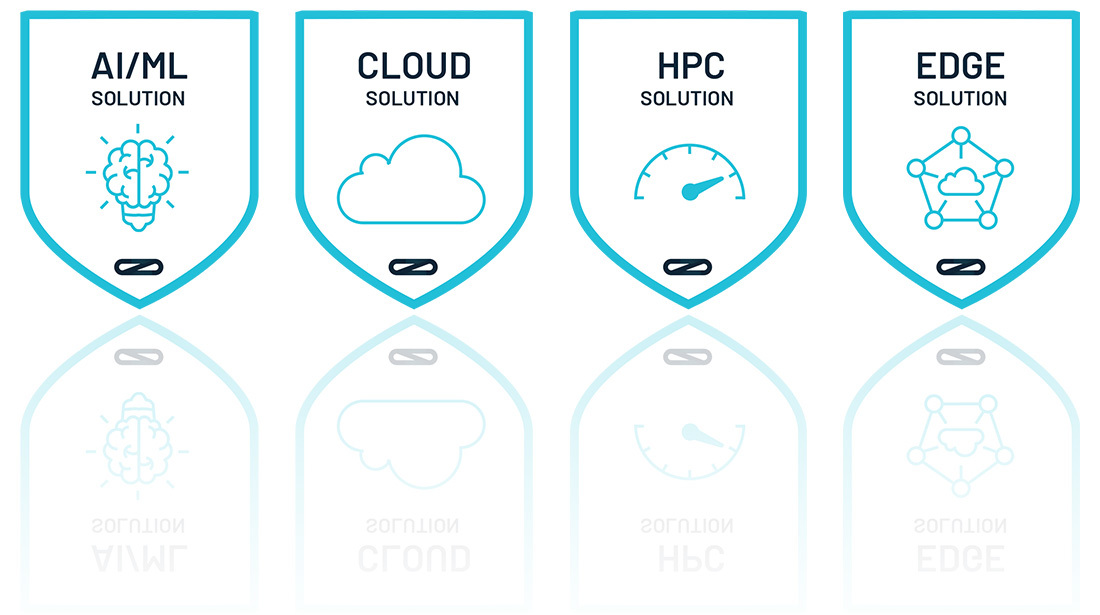 Immersion Cooling Servers with GIGABYTE
GIGABYTE is an industry leader in high-performance computing servers. Due to the high-power consumption and heat generated by high-performance processors or general-purpose computing accelerators, HPC servers and the derived applications are particularly suitable for immersion cooling.
By cooperating with Submer to provide standard products compatible with SmartPod, GIGABYTE's modular product design allows us to quickly respond to customer needs and modify other air-cooled servers to be fully compatible with submerged cooling systems or environments.
AI & HPC immersion cooling system

Compatible with SmartPod & MicroPod

Edge immersion cooling system

Compatible with SmartPod & MicroPod
You May Be Curious?
GIGABYTE has joined forces with Submer to offer a Single-Phase Immersion Cooling solution, allowing customers to drastically reduce their data center energy consumption and improve PUE, radically reducing operating costs and environmental impact.
As CPUs and GPUs continue to advance, they consume more power and generate more heat. It is vital to keep temperature control in mind when purchasing servers. A good cooling solution keeps things running smoothly without hiking up the energy bill or requiring persistent maintenance. GIGABYTE Technology, an industry leader in high-performance servers, presents this tech guide to help you choose a suitable cooling solution. We analyze three popular options—air, liquid, immersion—and demonstrate what GIGABYTE can do for you.
【FAQ】 Where can I buy a GIGABYTE server or motherboard?
Visit our Where to Buy page to learn about options based on regions across the world. Input your country, product, and type of seller. We have many ways to buy our products: GIGABYTE directly, a reseller, a system integrator, distributor, and more from our Where to Buy page. For further questions you can email us directly: server.grp@gigacomputing.com
【FAQ】 How long is GIGABYTE's server product warranty?
The warranty period and duration for GIGABYTE's server motherboards and barebones servers is dependent on many factors. Confirm with your seller. If it was GIGABYTE then contact us, if not then ask the seller.
【FAQ】 If my GIGABYTE server products are out of warranty, are there any repair options available?
First, in order to confirm your product isn't still under warranty, you can submit an online RMA request and we can check for you. In the even that the warranty has expired, we do offer repairs at minimal costs. Visit our Service/Support site to learn more:
https://www.gigabyte.com/Support
Immersion Cooling Infrastructure – Submer
Submer began in 2015, with the idea of challenging what it means to be a traditional data center. Today, Submer's state-of-the-art solutions designed for data centers, cloud and edge computing are purpose built to future-proof their infrastructure, addressing challenges of heat-reuse, net-zero water and site selection.